THE NATURAL WAY TO REMOVE MAKEUP
Designed to effectively and effortlessly remove makeup, dirt and bacteria with just water! The essential bathroom must-haves for any beauty babe.
"The Real Game Changer"
Finally, a cleanser for our makeup brushes and re-usable face pads that actually clean all 99% of the makeup off!
Why it made the cut: when first cleaning my face pad with Blush Off's Shampoo Cleanser, I was surprised how much makeup it took off first go. I haven't been able to keep my face pads white without washing them by hand and then again in the washing machine, so this is a real game-changer.
LEARN MORE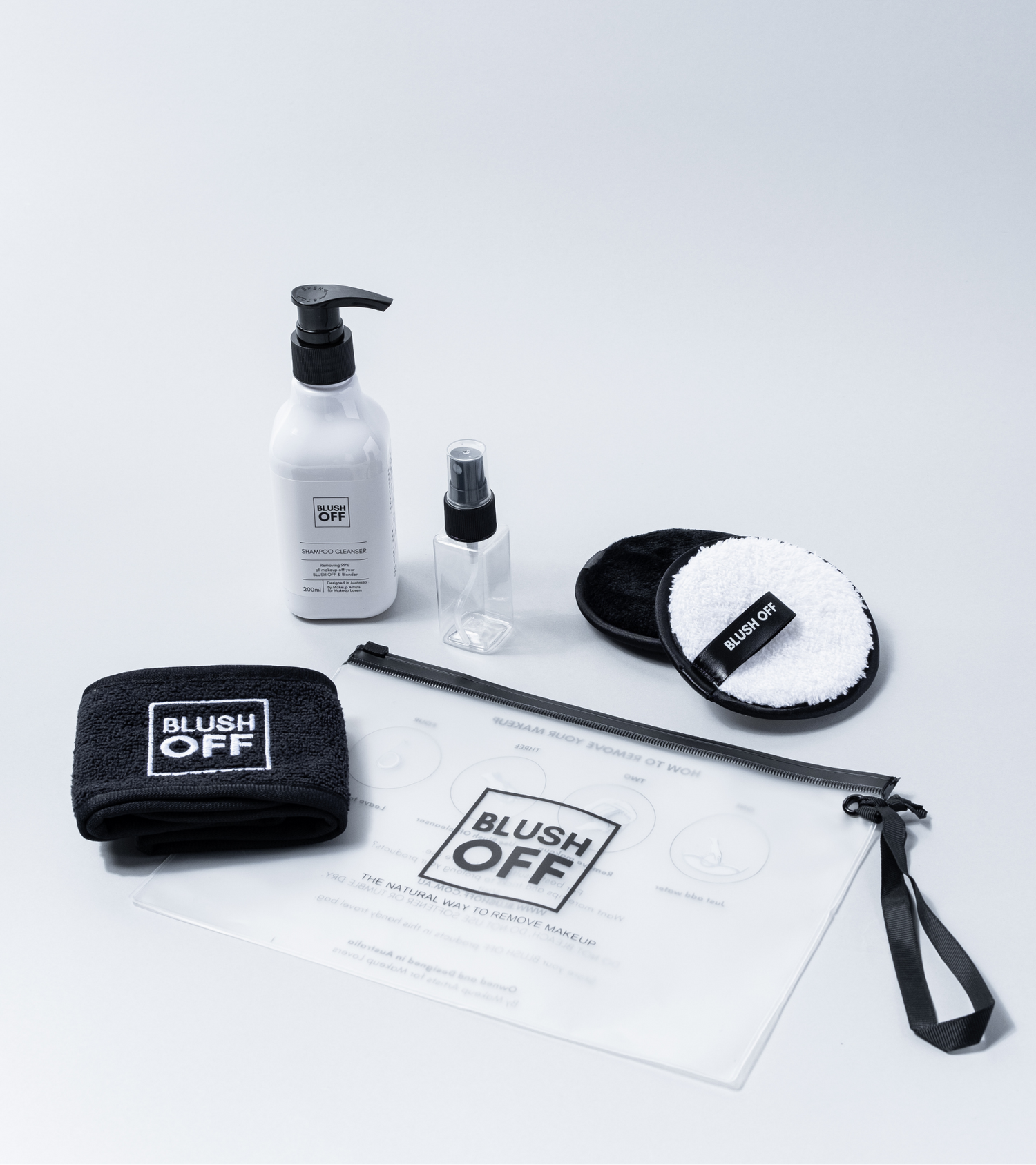 The Starter Kit
The perfect start to your new routine is here.
The Starter Kit will last you between 3-4 months, and you won't ever look back!
Uncomplicated, simple, effective and natural. The BEST way to remove your makeup.
SHOP NOW
PROUD TO SAY
AUSTRALIAN OWNED
Designed by an Aussie "BUSY" Mum to help end the use of chemicals and save beauty babes time and money.
WORLD-WIDE SHIPPING
Shipping to beauty babes, globally. Free Express Shipping to Aussies on orders over $39. See shipping details for other countries.
SUSTAINABLE
Minimalising skincare wastage as well as reducing waste in landfill. We've stopped over 15 million single-use wipes!
MONEY BACK GUARANTEE
We stand by our products and quality 100%. If you are unsatisfied with your order, we offer a 30-day money-back guarantee.
BEST SELLING BLUSH BUNDLES
Help us #ditchthewipes
Did you know that just one wipe takes over 100 years to decompose?
We spend an average of $9.00 per pack for 25 wipes and trust that we have entirely removed chemicals, makeup, dirt and harmful bacteria from our faces.  We are doing the opposite. Wipes are the main cause of blocked drains and the most harmful to our marine life.
Read more
Let customers speak for us